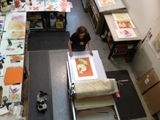 Bio
As a youth, Mary spent summers at her parents' summer stock theatre in Connecticut,
painting sets and playing in the costume department. In college, her scholastic pursuits encompassed the disciplines of graphic design, painting, English literature, interior design and fashion design, with additional studies in printmaking, jewelry-making, textile-weaving, and doll-and puppet-making in The Netherlands. She pursued successful careers as a graphic designer and art director in NYC, NY before focusing exclusively on fine art. Now, Manning soaks up inspiration from the world around her, and continues to participate in professional critique sessions with her artist peers.
Her award-winning collages, paintings and prints have been exhibited at venues including The Space in Sheung Wan, Hong Kong; Center for Contemporary Printmaking in Norwalk, CT, Silvermine Guild Arts Center in New Canaan, CT; Bruce Kershner Gallery, Fairfield, CT; Rockwell Gallery and The Westport Arts Center, Westport, CT; The Flinn Gallery and The Greenwich Arts Society in Greenwich, CT; Darien Arts Center in Darien, CT; The Stamford Art Association and The Palace Theatre in Stamford, CT; Rowayton Arts Center and The Avenue Gallery in Norwalk, CT and Prince Street Gallery in New York, NY. She has been featured in publications such as Connecticut Cottages and Gardens, Darien News Review, Norwalk Hour and Stamford Advocate. Her work has been collected by individuals, institutions and corporations in CT, NY and NJ, Florida, California and internationally in Sweden, Italy and Great Britain.
Manning in represented by Cynthia Byrnes Contemporary Art in Westport, CT. She maintains a studio in Norwalk, CT and prints in Brooklyn, NY.